BUMC Leadership

Randall Bradley – Director
Dr. Bradley is deeply committed to the sense of community that naturally develops when men sing together. Prior to coming to becoming director of the Baylor Men's Choir in 2000, he conducted Oklahoma Baptist University's historic Bison Glee Club beginning in 1994. At Baylor he serves as the Ben H. Williams Professor of Music, Director of the Church Music Program, and the Center for Christian Music Studies where he teaches graduate and undergraduate courses in church music.
Dr. Bradley is a frequent conference leader in the areas of conducting, music education, and church music. He has served in various leadership capacities with the American Choral Directors Association including the Oklahoma Choral Directors president-elect and Southwest Division Repertoire and Standards Chair for Male Choruses. Groups under his direction have sung for the Southwestern Division American Choral Directors Convention, the Oklahoma Music Educators Convention, the Baptist Church Music Conference, the Baptist General Convention of Texas, and the Cooperative Baptist Fellowship.

Zachary Schaser – President
Zach is a senior Mechanical Engineering major hailing from Eden Prairie, Minnesota. Since middle school and high school, Zach has enjoyed singing in choir and building relationships with his fellow singers. In Men's Choir, he has learned to stay true to himself, put forth his best effort, and continue moving forward through trials and hardship. One of his favorite things about Men's Choir is praising God while having a positive impact on the audience. In his free time, Zach enjoys running, reading, hanging out with friends, or listening to music. Although he enjoys almost any sport or activity, he can most often be found at the rock wall and bouldering pit in Baylor's gym or just rock climbing outdoors. In addition to his commitment to Men's Choir, Zach is also a student worker for the engineering advising office and a member of Engineers With A Mission. He attends Highland Baptist church and is a member of small group that meets on Monday nights.

Andrew Eshbaugh – External Vice President
Andrew is a junior Communication major from Temple, TX. This is his third year in men's choir and he has loved every second of it! The strong Christian brotherhood that he has found in this group has played an integral role in his college experience and his walk with Christ. He is excited for the opportunity to give back to the choir and serve as an officer for the first time this year. Andrew is also an active member of Phi Kappa Chi, and he serves as a camp counselor at Pine Cove during the summer time. In his free time, Andrew loves to grow in his friendships and to form new ones, whether that be through school, playing basketball, or just spending time with the people he cares about.

Max Tacker – Internal Vice President
Max is a junior Electrical and Computer Engineering Major from West, Texas (just north of Waco). Max has been in Men's choir for four semesters and can't wait to see what the future semesters hold in store. Men's choir was a pivotal point in Max's college experience as it quickly became his primary student organization. He loves men's choir because of the group has helped him to feel a sense of purpose at Baylor University. Max often enjoys beekeeping, playing sports with friends, and running in his free time. He currently attends St. Mary's Catholic Church of West, but plans to begin attending St. Peter's Catholic Student Center as well. Max is thrilled to be able to give back through service to the group that has given him so much.

Luke Ramsey – Secretary
Luke Ramsey is a Junior Management Information Systems and Economics major from Boerne Texas (right outside of San Antonio). This is Luke's fourth semester in the Men's choir and he plans on staying in the choir until he graduates from Baylor. Luke joined spring semester of 2016 and absolutely loved his time building the brotherhood within the choir. Luke enjoys reading and discussing literature and theology, playing board games, and making terrible puns. Luke is also a Community Leader in Heritage House Residence Hall, where he loves living in the Fine Arts LLC and helping students through their college career.

Lucas McWhirter – Treasurer
Lucas is a sophomore accounting major at Baylor University looking to join Walt Disney Animation Studios after graduating. He grew up in Austin and graduated from Westlake High School in 2016. This will be his third semester in the Men's Choir. Whether it be board gaming, shooting hoops, seeing movies, or throwing the frisbee, he is always up for some fun!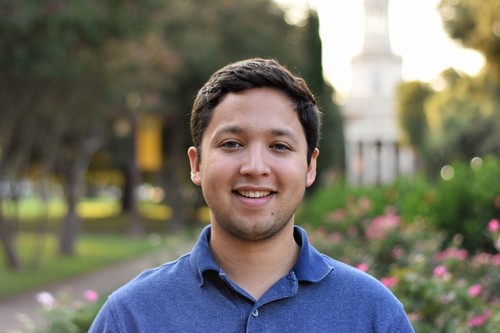 Isaac Bradley – Membership Development
Isaac is a sophomore choral music education major from Waco, TX. This is his second year in Men's Choir and believes it's the best group he's been a part of at Baylor. Being around strong men of God and an all-around great group of people has been extremely beneficial to Isaac's success at Baylor. He couldn't be happier to serve the choir as an officer. Isaac also is plugged into the Baylor community in other areas and had the opportunity to be a Baylor Line Camp and Orientation leadership this past summer. In his free time, Isaac loves to play basketball, make music, and be around his friends.

Parker Wagner – Public Relations Chair
Parker Wagner is a junior Computer Science major from Tulsa, Oklahoma, and he will serve as the Public Relations chair for the 2017-18 academic year.  He has been a member of the men's choir since he arrived at Baylor, and sings with the baritone section.  His favorite things about the men's choir are the group's sense of humor, excellent music, and brotherhood.  One way the choir has greatly impacted him was through his attendance of the men's choir's mission trip to Kenya during the summer of 2017. He attends church locally at St. Peter's Catholic Student Center (9th Street by the Panhellenic building), and cherishes the opportunity the men's choir presents to enrich his Christian faith through song.  He is greatly excited to serve the men's choir, which he has treasured and loved for two years, and hopes to serve well as the Public Relations chair.

Bryce Reed – Information Manager
Bryce Reed is a second year music theory master's candidate. Bryce has been in the Men's Choir for ten semesters and plans to continue in the choir throughout the rest of his Baylor education. Ever since being placed in the choir during orientation, Bryce has had his best collegiate experiences in the Men's Choir, including tours and two mission trips to Kenya. In his free time, he enjoys hanging out with friends, playing frisbee, listening to music, watching Baylor football, and thinking about traditional harmonic progressions. Bryce currently serves as the pianist for Grace Temple Baptist Church in Waco as well as one of the accompanists for the Men's Choir.

Luke Berry – Digital Media Officer
Luke is a Sophomore Finance major from San Antonio, Texas. All of his life his family has been into music and he has enjoyed building relationships and making connections with people through it. In middle school and high school he sang in small church choirs but gladly took up the opportunity to join the Baylor University Men's Choir when he came to Baylor. He loves sports, especially tennis, but enjoys ultimate frisbee, rock climbing, ping pong, racquet ball, and others. He has loved his time in Men's Choir and is excited to see what the future years have in store through the mission and outreach of the group.

Ross Tarpley – Chaplain
Ross Tarpley is a native of Marshall, TX and veteran of the Baylor Men's Choir. He graduated from Baylor in 2015 with a Bachelor's of Business Administration, with majors in Entrepreneurship and Religion. In the fall of 2016, he began the Master of Divinity program at Truett Seminary with hopes of pursuing vocational music ministry and possibly pastoral counseling/spiritual direction. He currently serves as the Minister of Music at Bosqueville Baptist Church and works as a Ministry Associate for Baylor Spiritual Life. He loves his miniature Australian Shepherd, Phoebe, theology, laughing with friends, and good music.

Reed Cooper – Advisory Officer
Reed is excited to be a part of the Men's Choir for his fifth year in the group and fourth year as an officer. He is a graduate student from here in Waco where he grew up loving everything Baylor (including Men's Choir the second he was introduced to the group in high school). He is in the Business Fellows program, getting majors in Accounting and Entrepreneurship and looks forward to working with KPMG upon graduation in May. He has been involved in many other groups during his time at Baylor including the fraternity Phi Kappa Chi and VirtuOSO, but this year has decided to focus solely on Men's Choir. He now lives with his lovely wife Bri, who may love the men's choir even more than he does. He loves sports of all kinds, especially basketball. He also enjoys the unique hobby of collecting shoes. He is also the Youth Minister of Faith Temple Baptist Church in Lorena. He cannot wait to spend another year singing alongside such an amazing group of guys and looks forward to the opportunity to serve them in his new role of Sentinel.